20 Games/30 Teams NBA Report 2017-2018: First Quarter Overview
Ayyyyyy.
Welcome to my first installment of my NBA 2017-2018 season break down. It's a little late, but my tablet decided to take a thousand dollar shit. Dope! Now that we have a quarter of the season in the books, let's get into this.
Who The Real HypeBEASTS?
Houston: Let's just start off the most statistically impressive dude out there right now. James Harden. A lot of people, including myself, were confused by the offseason trade Houston made to acquire Chris Paul. I guess we should have known that if anyone was going to make two dominant guards work in the back court, it'd be Mike D'antoni. Essentially we have prime test-tube baby, D'Antoni system offensive player of the year after year in Harden, and a gracefully aging State Farm agent of the year floor general in Paul. #StateFarm sponsor me. At the end of the day, we have the same Houston team that excels at up-tempo offense with an emphasis on drives and kick outs due to the sheer gravity of attention Harden demands on the offensive end, a carefully construed team of sharp shooters, and a honed in big in the middle by the name of Clint Capela who only runs the floor, rebounds, and blocks. Essentially what Dwight Howard was expected to do seasons ago, but at 1/12th of the price. Paul shores up some of the intensity and crunch time leadership that has been lacking from maestro Harden in the postseason. Since Paul has been back, this team has not just been ranked number one in offense, but top two in defense. That's scary. Might wanna' believe the hype on this one.
Celtics: Boston would have been the first mention had Houston not gone on such a ridiculous run of late. But shit, the whole narrative of the NBA before that had been the run Boston went on. Boston's run? Easily more impressive. A sixteen, seventeen, something run? I talked about gravity when it came to Harden, but how amazing has Kyrie been in regards to letting this team of youngins shine while still being able to take over in the fourth without forcing it? His ability to keep this young team engaged has been far greater than advertised with the bulk of off-season worries being that he wouldn't be able to handle being "the guy" without LeBron pulling defensive attention away from him. Horford is officially playing up to the standards this team expected from him as well just by simply playing with more intensity while playing within his career averages of 14/8. Brown and Tatum are balling and compliment one another exceptionally well, and I would never say that the Gordon Hayward injury was a blessing in disguise because this team would be ridiculous with him on the court...but there is a silver lining with these two being thrown into deeper roles with Hayward's absence. This basketball club is in the best position it has been in since 2008, 2009. Oozing with young talent, a super star, a legit 2nd/3rd option, well managed role players, rebounding, shooting, and elite coaching. Boston shored up every issue they had from last season and are firing on all cylinders.
Cavaliers: Beat it if you thought LeBron and the Cavs weren't going to be post-season material. Here's the thing about LeBron's teams: they age about as gracefully as it takes for his game to adapt. What I mean by this is that LeBron fluctuates between main facilitator / gorilla glue guy, to "hand in the face fuck outta' here I'm scoring on you effortlessly cash my checks for me", guy. Most of this is determined by who is around him, which by the third year of him handpicking a team for himself, tends to be void of talent as he generally trusts in specialized veteran role players the most. Those type of players age and become complacent. Hence why there has been a rough transition early in this season for the Cavs with the departure of Irving and not yet being able to play Isaiah Thomas. You'll notice LeBron's shot attempts have gone way up since their initial losing streak, averaging 28/8.5/8.1 in his 15th season. That also means he accounts for anywhere between 44-50 points a game based off of his scoring and assisting. Harden might be the only one beating him on that, but with more consistent scoring options. The real question is what moves will the Cavs make by the All-Star break, and how will they find time for LeBron to rest before the postseason. I expect to see a Minnesota-lite version of Kevin Love with the eventual December start of Isaiah Thomas due to the extra spacing and lessened pressure. Factor in a possible trade of Tristan Thompson (Injury update: Kardashian curse) for Deandre Jordan? They're asking for a lot for Deandre, but teams buckle when it gets hot. Hmmmm...better beat Milwaukee to the punch, Cavs.
Golden State: Can be summed up by this -
Sketch-City
OKC: I was super hyped about this team before the season started - surprise, surprise. 'Melo is one of my favorite players along with Westbrook. Add PG13 into the mix? The superstar appeal is there, just not the shot selection. You have three high usage stars playing like...three, high usage stars. There's been some talk about 'Melo taking a bench scorer role, but I think the real issue is that 'Melo has not been positioned into a PF role in the post. Instead there's been a hot potato offense between two wings and a point guard. What this team needs is a more balanced offense between a 1A and 1B offensive punch with Westbrook and PG13; with 'Melo in the post and Steven Adams gobbling up bricks and converting them into easy buckets. More structure and less chucking will end this teams struggles when it comes to second halves. Not entirely sure if we will get to see this though considering the embarrassing loss to Brooklyn in the Mexico City showcasing. OKC's biggest strength is their savvy front office. Maybe savvy isn't the word. Ballsy. Their front office has big brass balls, and are not afraid to shake it up early.
Timberwolves: Here's a team that needs an off-season together. They have all the talent - albeit, some of which is defensively lackadaisical - to compete in the playoffs. Looking at you, KAT. With a very player respected and defensive oriented coach in Tom Thibs, I'd expect better effort when it comes to defense for this squad. They have time to mesh, but I highly doubt they end up making a splash. Too odd of a mix of defensive specialists and offensive specialists. You end up with black holes on offense, and matadeur defense. And let me take a second to backtrack on the coaching. While Thibs is respected and knows what he is doing, there is no doubt that he runs his star players into the dirt. With Butler averaging over 40 minutes in December thus far, and verbally acknowledging it, along with the Timberwolves already running a playoff tight 8 man rotation, how long until we see some injuries? Knock on wood if you live in 'Sota.
Toronto: They're not playing bad...just, I'll reserve these thoughts for later in the season. But until then, this is my explanation of the team when it comes to contention.
Wizards: John Wall injuries are disconcerting when it comes to a team that is heavily reliant on their star point guard. A mysteriously sore knee when it comes to athletic players is generally not good. It's unfortunate that this coincides with Bradley Beal's and Otto Porter's breakouts. If you placed a healthy John Wall onto this team, you'd have a top three Eastern Team in the mix. Unfortunately, the team is fragile and has opportunity to fall out of playoff contention due to the rising Indiana Pacers, and the overachieving Knicks & Miami Heat.
Floppers
Clippers: Looked promising early on, but defenses have already adapted to their offense minus #StateFarm Cliff Paul. Turns out you need a point guard capable of leading an offense more than a guard that is more suitable for the Chinese League. Doc Rivers should have never traded for his son. Talk about awkward now that the kid has been given every opportunity to succeed and has fallen flat. League-wide nostrils are flared in trying to determine what is up for grabs on this team with Blake and Beverly being injured. So long, lob city.
Grizzlies: The blue collar savior of the league for a handful of seasons now has unofficially tapped out. Expect to hear about the barrage of phone calls asking what's up for grabs in the upcoming fire sale. Underrated and overpaid point guard Conley returning in a few weeks won't get this team back on track. Gasol started off in dominant fashion, but has fallen back to Earth. Fan favorites in Z-Bo and Tony Allen were allowed to walk in the off season. Rightfully so mind you, because I know just how many games nostalgia wins you coming from a Suns fan (Nash & Hill circa 2011, 2012). Their lone bright spot in terms of retooling in the offseason was picking up Tyreke Evans, who I had personally given up on. So far, his game has completely transformed in terms of efficiency and shooting. My advice is to not celebrate this come up for too long. Trade either him, Conley, Gasol, or all three of them. The latter two are on the wrong side of 30, but still worth a lot. By the time you build through the draft, they'll be one foot out of the league anyways. Grind City had a good run. This is coming from a fan that has watched their run closely and understands that with their lack of cap space, they will not be able to sign pieces that could potentially refuel this basketball club.
Dark Horses for Improvement
Pelicans: Too much top heavy talent to not make a splash. Even though I'm patiently waiting for the Suns to sign Boogie, I know that Cousins and Davis is a rare matching in todays league that is a few select role players and specialized rookies away from being stupid scary. Well, that and a healthy Anthony Davis. Both bigs dominate in the paint and have outside shots respectable enough to allow space for the other to do work. Outside of that, they're limited when it comes to shooting. The main goal for this team should be to surround their beyond dominant frontcourt with a specialized playmaker with a half decent shot and a few sniper wings. Let them do their work while keeping the defense honest on the three point line. Rondo works, but George hill would be better. Add a Kyle Korver type, or two, to the mix and watch the paint open up even more. They have the potential to steamroll, but todays league (officiating and rules) does not allow for paint dominance while excluding three point shooting. This is without a doubt, the easiest team to fix. Unfortunately...they also have the shortest window when it comes to contract extension. Boogie will hopefully be snatched up by the Suns come the off season. Booker and Boogie the new bread and butta'.
Spurs: Kawhi is coming back Saturday. Ok.
Jazz: This team obnoxiously remains relevant. Rudy Gobert is back to anchor the defense and while he was out, guard Donovan Mitchell stepped up and made NBA headlines by getting very, very hot. On their Tyler the Creator ish...I bloom, I grow. Run it, run it, run it. Solid enough coaching along with young rookie legs and vet power will allow for this team to fuck over other playoff seeking squads and the occasional high roller. Essentially, the Utah Jazz are obnoxiously irrelevant with the potential to be deceivingly decent.
Honorable Mention for Us Homers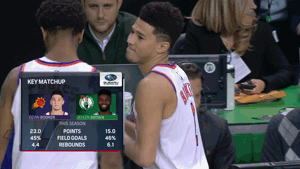 It's unfortunate that our diamond in the rough is out a few weeks with a groin injury. Devin Booker has caught the leagues attention when it comes to the new star alert. Brodie has had more 30+ points games this season than the opposite. It's rare that a promising player addresses their weaknesses. Normally a seemingly one dimensional player that is marketable as a shooter will rest on their laurels. Booker has stepped up both his defense and his playmaking. Does he currently suffer from heat-check moments? Sure. Suffer is the wrong terminology though when it comes to a player of his caliber that is capable of sinking stupid shots. I've reached the point of being surprised when his bombers don't drop.
The Suns are now in a very precarious position. They just barely accepted the rebuild process. But...Booker is ready to go off. At 21, thankfully - he's still on the rookie salary scale with us being able to salary him up for the foreseeable future. But...do we really want to risk another player asking for an out? Bledsoe. Dragic. Thomas. Morris twins. All of them were for the most part, kept in situations where they either couldn't shine, or couldn't prosper. This basketball club needs a star player, and that player is Booker. He is a supremely talented player that can score at ease, draw public attention, defend at a solid clip, and who's game does not rely upon athletics. He's who you want to anchor your clubs image with the moving on of Steve Nash. Keep T.J. Warren as your second/third option. He is one of the most efficient midrange scorers and transition finishers in the league along with one of the best passing lane defenders (those steals lead to a good amount of his transition finishes) and has really stepped up his defense this season. Icing on the cake? He clearly wants to be here and just play his game, as evident by his bargain of a contract extension this previous off season.
We essentially are in a shit, or sell the toilet and forever live in mediocrity situation. We need a starting level point guard and a solution at the center position. What we have is a plethora of picks (this team does not need anymore young projects) and a three-headed center problem reminiscent of our previous three-headed point guard problem. Tyson Chandler is the most solid center we have, but he's a vet that does not fit the age range of our core and should have his patience with us rewarded by being traded to a contender. Greg Monroe, while talented offensively, is a big plodding waste of contract space that will leave this off season to be most likely a bench player for the Warriors for pennies. Alan Williams will be back next season and will slide right back into that ideal second string center position. Alex Len, barring a free agency signing, or a blockbuster trade that brings us in a superstar at the center position, should be our starting center going forward. Ideally, we roll the dice like Boston has and finally move our treasure chest of assets for a star at either the point guard, or center position. If the latter doesn't happen, you try to resign Alex Len as there won't be many teams willing to sign him to a contract outside of what we can spend next year.
Possible trades aside, since I'll try to cover those in the next article, let me explain real quick why I like Alex Len. Len's only faults, aside from his hands of stone, is that he came out of a draft as the number five pick that was ultimately a lackluster class of players. Following that, he has been in constant fluctuation in terms of role, minutes and expectations. We first thought he would be an acrobatic offensive center with solid shot blocking. Then we thought we'd develop his midrange and three point shooting. Then we thought we'd develop him into an elite post player. Meanwhile, we changed through probably four, or five coaches and various point guards that looked to score more than move the ball. It's no mystery as to why Len has always looked clunky. I like how he looks this season though. Sure, he turned down his qualifying offer which means he will be an unrestricted free agent this off season and is most likely trying to play out of his mind for a big contract. That's definitely a red flag. But, his game has looked simplified and effective thus far. He plays quality defense, blocks shots, rolls to the basket, gets to the free throw line, and is a beast on the boards. Leads the league in rebounds off the bench. Granted, a lot of those are tip ins from his missed shots, but you have to appreciate the hustle. If we can't land a Demarcus Cousins type player, I would not be mad at Len returning for a five year, 10-12 million contract.
Moral of the story is: Get a fucking team around Devin Booker. Fast.
See you at the All-Star break.